At Sam Leman CDJR of Bloomington, we understand how important it is for you to be supplied with plenty of useful information while you're searching for the perfect car. So, to make your shopping experience even more enjoyable, we've designed this all-inclusive car comparison library.
By clicking on one of these articles, drivers of Bloomington, Lincoln, and Champaign will discover more about the key differences between our dependable automobiles and other comparable models. That way, you'll know which new vehicle will help you tackle your daily responsibilities and upcoming family adventures.
Chrysler Comparisons
Chrysler Pacifica vs. Honda Odyssey
Dodge Comparisons
Dodge Grand Caravan vs. Kia Sedona
Dodge Journey vs. Toyota Highlander
Jeep Comparisons
Ram Comparisons
Ram 1500 vs. Ford F-150
Ram 1500 vs. GMC Sierra 1500
How Will I Benefit from These Car Comparisons?
Any seasoned car buyer knows that taking some time to perform thorough research into your next automobile is essential.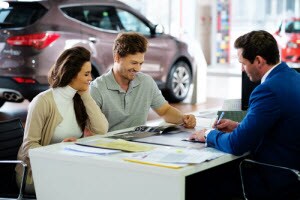 That's why we've made it our duty to offer up a way for you to easily learn more about various models from the comfort of your own home. With the convenient links on this page, you'll stay in pace with your busy schedule while also gathering details on the vehicles that interest you most.
Our car comparisons provide you with ease-to-absorb and well-organized information about the most crucial components of our automobiles-like performance specifications, technology advancements, safety tools, and more.
So, no matter if you want to learn more about the reliable Chrysler Pacifica, the terrain-ready Jeep Grand Cherokee, or any of our other models, you'll quickly determine which option is best for your family's lifestyle.
By taking a few minutes to dive deeper into the unique features contained in our cars, you'll start to narrow down your list of potential rides until you've identified a couple that you want to test drive. That way, you and your family will arrive at the showroom with an idea of what you're looking for.
Our CDJR Comparisons
Why not start your research process right now by scrolling through our list of Chrysler, Dodge, Jeep, and Ram car comparisons and choosing the one that applies to you? After you've clicked on the article, you'll begin reading about various details, like cargo capacity, engine options, interior style, and so much more.
On top of that, you'll be able to check out the newest devices contained in the cabin of your favorite vehicle. From SiriusXM® to infotainment systems, and everything in between, our car comparisons will take you on a tour through the entertainment options that adorn the inside of your automobile.
Ready to start exploring more about the capable cars found at our dealership? Great! Simply select the model that's most intriguing to you and begin reading. Thanks to these handy articles, you'll become an expert on your next vehicle in no time.
And if you realize that you have questions at any point, feel free to reach out to the friendly sales associates at Sam Leman CDJR of Bloomington. We're always happy to help drivers of Bloomington, Lincoln, Champaign, and beyond find an impressive automobile.