If you want the best performance from your car in the Bloomington, Champaign, or Lincoln areas, you're going to have to keep up with the tires. Think about it, can you run faster in your old and beat up shoes or in your brand-new sneakers?  Your car is the same way, and at Sam Leman Chrysler Dodge Jeep Ram of Bloomington, we want to help. Continue reading to learn more about our tire repair services and be sure to check out our rotating list of tire service coupons!
Available Tire Services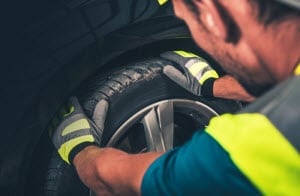 There are many different services available to keep your tires in good shape. It is recommended that tires be replaced every 35,000 miles. During this service, a certified professional will remove the old tires and replace them with new tires. 
If you've chosen to only replace two tires, your service technician will also rotate the new tires with the old to ensure that the new tires are where they need to be.
For a flat tire, there is tire repair or replacement to rectify the problem. While it is seldom recommended that you replace only one tire, it can be done. However, it usually requires something called a front-end alignment to ensure that the new tire isn't interrupting the balance of the others.
The Importance of Good Tires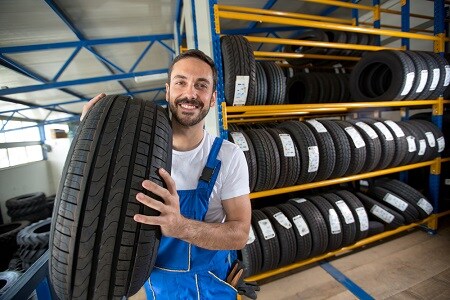 Think about your shoes again. If you have the right shoes, your feet will feel better, you have a lesser chance of injuring yourself, and you'll move faster. Your vehicle has the same needs. Good tires affect the way your car functions, from the gas mileage to the smoothness of the ride. Older tires can also impact how well your car drives straight ahead instead of pulling to the right or left.
How to Tell If Your Tires Need Help
If your tires are in bad shape, your car isn't going to drive properly. You'll notice subtle differences, such as a strange flapping sound coming from the exterior of the car or odd marks on the tires themselves.  You may even be able to see the tire's threads showing through. In any of these instances, it's time to get your car checked out. 
Schedule your routine tire maintenance with us today.