Best Coffee Shops near Bloomington, IL

We know how you feel. As soon as your feet hit the floor in the morning, it's essential that you get a dose of caffeine into your body as quickly as possible. How else can you be sure that you can keep up with your responsibilities and the demands of your job?
So, if you're just like us and need to sip on some wakey juice to start your day, we're here to point you in the direction of some jolting java with this guide to the Best Coffee Shops near Bloomington, IL. Thanks to these coffee havens, you'll be ready to take on the day with plenty of energy.
Coffee Hound
There's nothing better than choosing a one-stop-shop for all your coffee needs. And at Coffee Hound, you'll snag a cup o' Joe, a pastry, and a bag of beans to brew your own mug of piping hot java at home.
Whether you're in the mood for a straight-to-the-point mug of black coffee, or something more unique, you'll take a swig of the elixir that gets you going.
In addition to their extensive daily menu, this coffee sanctuary offers up regular specials that infuse your favorite beverage with exotic flavors, like their Cardamom and Rose Iced Latte. That way, you can cool down and enjoy unexpected aromatics while you get your morning jolt.
And, once the weekend finally arrives, feel free to lazily browse their bags of coffee beans, provided by Sirius Coffee Roasters. With these portable bags of goodness, you can fill your home with those tantalizing scents from your favorite blend on your relaxing Saturday morning.
Stay up to date with their newest coffee concoctions by visiting their Facebook profile!
The Coffee House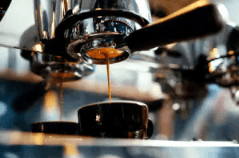 No matter if you're a professional, student, or just a coffee craver, The Coffee House provides you with that perfect, cozy atmosphere for any type of project you may be working on.
Plus, this locally-owned shop sources their coffee from countries all across the world, making it a great attraction if you're staying in a Bloomington-Normal hotel. With their dedication to fair trade, you'll sip on your morning brew knowing that it's been harvested by families in Columbia, Kenya, India, Guatemala, Brazil, and more.
And, regardless if you want a Mocha, Macchiato, Americano, or any other type of blended brain juice, you'll gulp down a hot or iced version of your most beloved blend and banish any sleepiness while getting through the work day.
Need a bite to eat? Well, this destination serves up all the grub you need to stay energized—whether you're a vegan, vegetarian, or omnivore. Chow down on their Falafel Pita Pocket, which comes filled with Falafel Patties, Hummus, Lettuce, and Cucumber.
Check out their Facebook page to see some of their customers' raving reviews!
Fusion Brew
Sometimes, you need something a little unexpected to start off on the right foot. That's why Fusion Brew supplies coffee enthusiasts with a list of Ice-Blended Coffees that are sure to keep you coming back for more.
For the chocoholics among us, their menu features café creations like Banana Fudge Mocha, Double Fudge Mocha, Coco Mocha Nut, and just about any other brew you can imagine.
In addition to that, you're welcome to go straight for the caffeine with a shot of regular or flavored espresso. That way, nothing will stand between you and your power potion.
Looking for something a little less heart pounding? Order a cup of their famous Bubble Tea, including flavors like Green Apple, Raspberry, Watermelon, and many more.
Take a look at their Facebook to plan for some of their upcoming events!